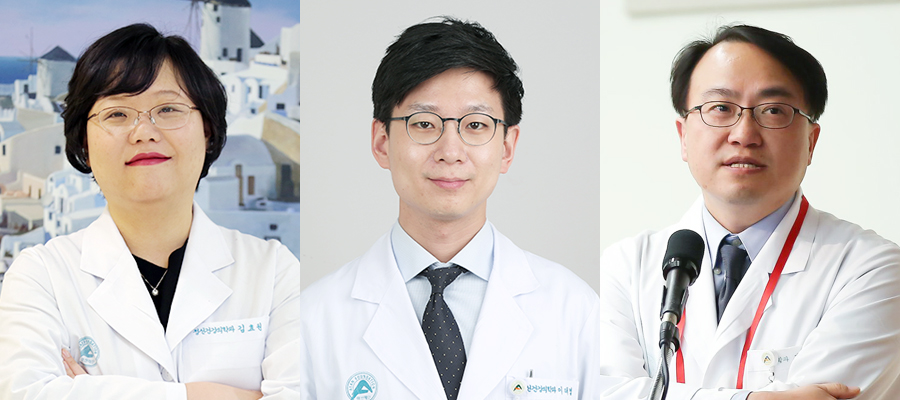 ▲(from the left) Professor Hyo-Won Kim, Professor Taeyeop Lee, and Professor Namkug Kim
Research has revealed that the presence of self-harm content in the media creates a fantasy among adolescents that self-harm can serve as a means to escape reality, consequently making self-harm more accessible.
Asan Medical Center(AMC) research team led by Professors Hyo-Won Kim and Taeyeop Lee from the Department of Psychiatry, along with Professor Namkug Kim from the Department of Convergence Medicine, utilized the National Emergency Department Information System (NEDIS) to gather and analyze data from 115,647 patients who visited the emergency room between 2015 and 2018 due to self-harm, including both suicide attempts and non-suicidal self-harm. The analysis of the average monthly number of emergency room visits related to self-harm revealed a distinct disparity before (February to March 2018) and after (April to December 2018) the broadcasting of self-harm content. Among individuals aged 10-14, the monthly number increased from 0.9 per 100,000 population to 3.1. For the age group of 15-19, it increased from 5.7 to 10.8, and for those aged 20-24, it increased from 7.3 to 11.0. Furthermore, noteworthy differences were observed across the years. The rate of emergency room visits related to self-harm per 100,000 population increased from 8.1 in 2015 to 31.1 in 2018 for individuals aged 10-14. During the same period, the rate rose from 63.5 to 119.0 for those aged 15-19, and from 75.7 to 127.1 for individuals aged 20-24.
Professor Hyo-Won Kim stated, "While freedom of expression in the media should be respected, it is imperative to consider the media's influence on adolescents' mental health at a societal level."
Professor Namkug Kim commented, "This research holds significance as it examines the impact of sudden stimuli by analyzing nationwide emergency room visit data for a highly media-influenced demographic, such as adolescents."
The research findings were recently published in the 'Journal of the American Academy of Child and Adolescent Psychiatry,' an esteemed international academic journal.