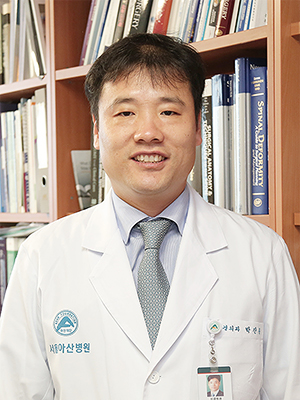 ▲ Professor Jin Hoon Park
Metastatic spinal tumors are cancer that has spread to the spine. Fixation of the spine with screw insertion is necessary to prevent vertebral collapse while removing the tumor by surgery. Previously, more than four vertebrae have been fixed with screws through open spine surgery with a long incision in the back, about 30cm, for stabilization of the spine. However, a recent study has revealed that short-segment fixation is sufficient according to patients.
From 2018 to 2020, AMC team led by Professor Jin Hoon Park and Specialist Hong Kyung Shin of the Department of Neurosurgery performed 'customized short-segment fixation' surgery method such as fixing only two joints of the existing spine after removing the tumor or treating compressed nerves on 105 patients with metastatic spinal tumors.
According to the research, the incidence of complications such as postoperative hematoma and recurrence was about 6% when spinal short-segment fixation surgery was applied simultaneously. Compared to the fact that complication rates were reported as high as 10~20% when only traditional surgical methods were applied, the risk of complications decreased significantly. In addition, several subjective quality of life measures (ECOG-PS, KPS, etc.) show that after surgery, quality of life has improved significantly to the point where patients are capable of ordinary daily lives. In the 1-year survival rate, there was no statistical difference between traditional surgical method and 'customized short-segment fixation' surgery method, not affecting cancer treatment.
Professor Jin Hoon Park said, "Patients with metastatic spinal tumors not capable of surgery due to poor health conditions can also be treated when 'customized short-segment fixation' surgery method is applied. The risk of complications or pain after surgery decreased greatly, enhancing their quality of life." The findings were recently published in the international journal 'Medicine.'