A tumor grew more than 15cm in size… Left unattended for 10 years due to lack of resources in healthcare settings
Dropped out of school due to difficulties in his daily life... Dr. Jae-hoon Lee, a medical missionary, contacted Asan Medical Center for support
Professor Jong-Woo Choi of the Department of Plastic Surgery said, "Despite his poor nutrition status, the eight-hour major surgery had ended successfully."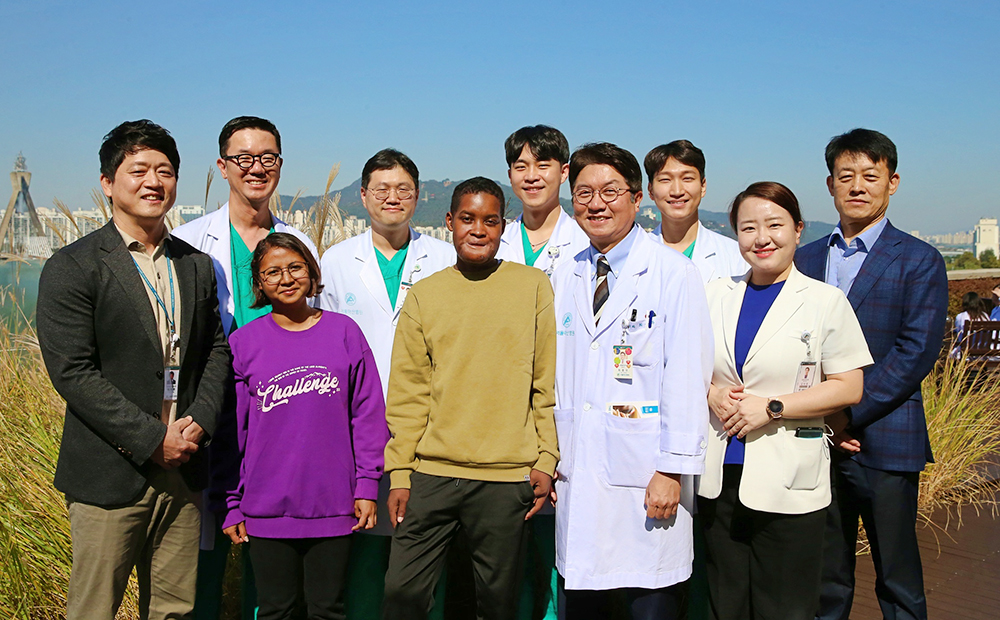 ▲ Flangie and Professor Jong-Woo Choi(front row, third and forth from the left) taking a commemorative photo before Flangie's departure.
A young man from Madagascar visited Korea to gain a new life. He had been bullied as "one with a gruesome lump" due to his 15cm face-sized tumor protruding from his mouth, making his daily life difficult.
Madagascar is the fourth largest island country in the world, located in the southeastern part of the African continent. It is one of the countries which lack healthcare resources. Also, some rural area in Madagascar do not have access to electricity and are off the grid, where even the global COVID-19 pandemic was unable to reach.
Asan Medical Center(AMC) team led by Professor Jong-Woo Choi has successfully removed the huge tumor of Flangie (male, 22), who had a face-sized tumor in his mouth due to poor healthcare environments in the rural area of Madagascar. Flangie, having regained his healthy smile, is set to return home on Saturday, November 5.
Flangie had molar tooth pain when he was 8 years old, so his mother pulled it out. Maybe due to the tooth extraction, inflammation began to occur in Flangie's molar extraction area. However, due to lack of proper medical facility nearby, it had been left unattended for about 10 years, losing the golden hour for treatment.
The inflammation, which was small in the beginning, gradually grew into a giant cell reparative granuloma. Giant cell reparative granuloma is a rare disease, known to occur in one out of every 1 million people. Initially, it can be easily treated with drugs, but in the case of Flangie, the tumor kept growing and later on protruded from his mouth due to delay in treatment. The tumor of Flangie was seriously gigantic in size among giant cell reparative granulomas.
As a face-sized tumor protruded from his mouth, Flangie had difficulty in talking and eating and bleeding frequently occurred when the tumor was touched or mistakenly hit, making his life more and more difficult.
Friends began to intimidate Flangie, calling him "a child with a gruesome lump" or "a haunted child" due to the huge tumor, and as a result, Flangie gave up going to school.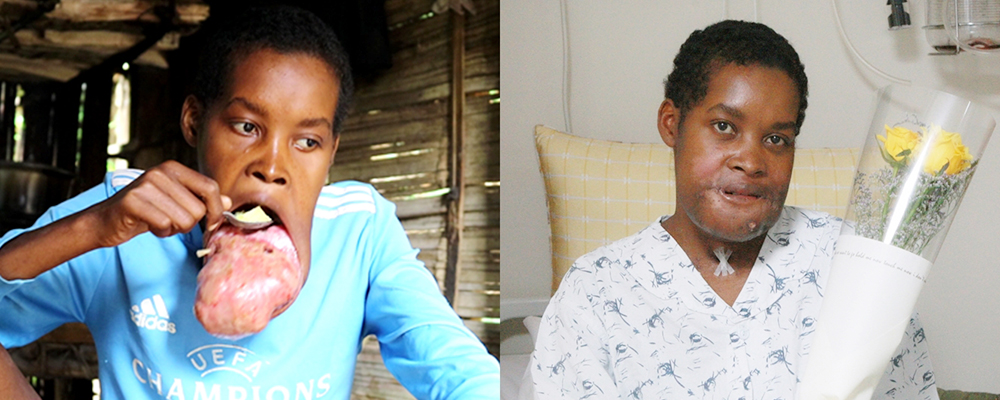 ▲ Photos of Flangie from Madagascar, an island nation in southeastern Africa, before(left, May 2022) and after(right) surgery
The village where Flangie lives is Ambavala, about 2,000 kilometers from Antananarivo, the capital of Madagascar, an island nation in southeastern Africa. There is no road leading to the village, so it is a remote area that can be reached only by walking for about two days. There is no electricity in the village, so they depend on fire light. Also, there is no hospital and doctor in the village, just one nurse.
Three hours on foot from the village, there is a hospital, but even there, only one doctor provides simple treatment. Flangie had visited the hospital with hope, but only received a hopeless answer: "There is nothing I can do for you."
Having neglected the tumor for more than a decade, Dr. Jae-hoon Lee, who is a medical missionary engaged in medical volunteer work in Madagascar, accidentally discovered Flangie in the early 2021. Dr. Lee judged that Flangie's tumor was difficult to treat in Madagascar. When Dr. Lee was inquiring several Korean hospitals to treat Flangie, Asan Medical Center readily responded. Dr. Lee has a close tie with Asan Medical Center for he was the recipient of the ASAN Award of the Asan Foundation in 2018.
Flangie, who had not even been registered for birth, had to prepare for about a year for entry procedures to go to Korea. Eventually, he arrived at Asan Medical Center on August 31 after a 20-hour flight.
On September 16, AMC team led by Professor Jong-Woo Choi of the Department of Plastic Surgery performed more than eight hours of major surgery together with the Department of Dentistry and Department of Otolaryngology-Head and Neck Surgery. The surgery was to remove the giant cell reparative granulomas, which was as big as Flangie's face, 15cm or more in size and 810g in weight. Also, the team rebuilt the lower jaw, which was not functioning properly due to the tumor, using Flangie's calf bone, and aligned his mouth and lips which were stretched due to the tumor.
Flangie was worried about whether he would be able to endure a long surgery due to his poor nutritional condition, but he safely turned the corner. He regained his light-weight face and a bright smile and is set to return home on November 5.
The entire treatment cost of Flangie will be supported by the Asan Foundation and Asan Medical Center.
Flangie said, "I am so grateful to the medical staff at Asan Medical Center for making my face normal again, which could not be cured in Madagascar, and being warm and caring like a family. I was frustrated in that I had to live with a lump in my mouth for the rest of my life, but on hearing that the surgery was possible, I had a dream for the first time. I want to be a missionary and be a person who can deliver hope to people who are in similar situations."
Professor Jong-Woo Choi, Flangie's attending surgeon, said, "Our team has accumulated know-hows through years of facial deformity treatment, but in the case of Flangie, we were worried whether Flangie would be able to withstand general anesthesia. Also, the tumor size was larger than we had thought. I am glad to see Flangie recovering well and leaving the hospital in good health. I hope he will overcome the psychological contraction caused by facial deformities and draw a life full of confidence and smiles in the future."
Meanwhile, in May, Asan Medical Center team led by Professor Jong Woo Chung of the Department of Otolaryngology-Head and Neck Surgery successfully treated Beta Octavia (female, 31), an Indonesian deaf patient who had neglected her middle-ear infections for more than 20 years due to economic hardships and lack of medical infrastructure.