Professor Seung-Whan Lee, Division of Cardiology
"Comforting patients through heartfelt empathy, consideration, and encouragement"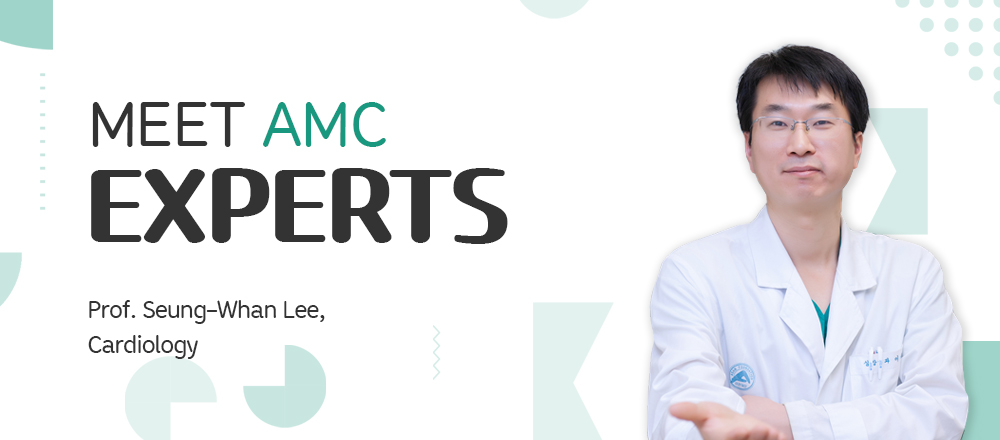 The Division of Cardiology of Asan Medical Center (AMC) has been ranked Korea's No.1 and World's top 40 in 'World's Best Specialized Hospitals' by Newsweek for 3 consecutive years. Given this global reputation, the Division of Cardiology was visited by more than 3,400 international patients from about 70 countries over the last decade. Professor Seung-Whan Lee, a specialist in angina pectoris, myocardial infarction, and peripheral vascular disease that have been increasing in incidence and mortality since the 1990s, shares his story about international patient treatment.
Treatment philosophy behind treating patients from abroad
Regardless of nationality, people always feel downhearted when they are physically or mentally ill. When these ill people visit a hospital, medical staff is the first to greet them. I have learned from many experiences that a medical staff's kind words can be of great help in patient treatment. That is why I try to treat patients by thinking and communicating from their point of view. I believe patients' trust in medical staff can be built on continuous communication. To strengthen the trust with my patients, I offer only the best possible treatment options that I would also recommend to my family.
Specialized area of treatment and accumulated experience
The Division of Cardiology deals with diseases such as angina pectoris or myocardial infarction that require urgent treatment and offers effective treatment to alleviate the pain of patients in life-or-death situation. I was drawn to this point. During my internship and residence in Asan Medical Center, I came to know the global reputation of AMC's heart disease experts and did not hesitate at all in choosing the Division of Cardiology as my specialty. Over the course of treating cardiovascular disease patients at AMC as well as lecturing and performing live case medical procedures at academic conferences home and abroad, I became curious about medical care settings and processes in other countries. To satisfy my curiosity, I went to University of Washington Medical Center in 2011 for a year training, as an exchange professor, in the fields of coronary artery stents and transcatheter aortic valve implantation (TAVI). After that, I also became interested in peripheral vascular diseases which has a rapid increase in prevalence as the population is aging. Now, I am providing specialized medical services for peripheral vascular diseases as the Director for Peripheral Vascular Disease Center of AMC Heart Institute which opened in 2014. I am performing more than 1,000 procedures a year at AMC's Division of Cardiology and Peripheral Vascular Disease Center including 700 coronary artery interventions, 40 TAVI cases, and 300 peripheral vascular interventions.
Considerations when treating international patients
I think human basically have similar mindsets. While the size of each patient's pain may differ, patients are no different in that they all want to rely on and gain empathy from someone. In my opinion, empathizing with patients and giving them hopeful encouragement can give them strength regardless of race or religion. As may be the case with domestic patients, international patients from distant countries may be more nervous and worried. That is why I try to share positive stories with international patients and cheer them up. I tend to deliver hopeful messages before treatment and messages of encouragement after.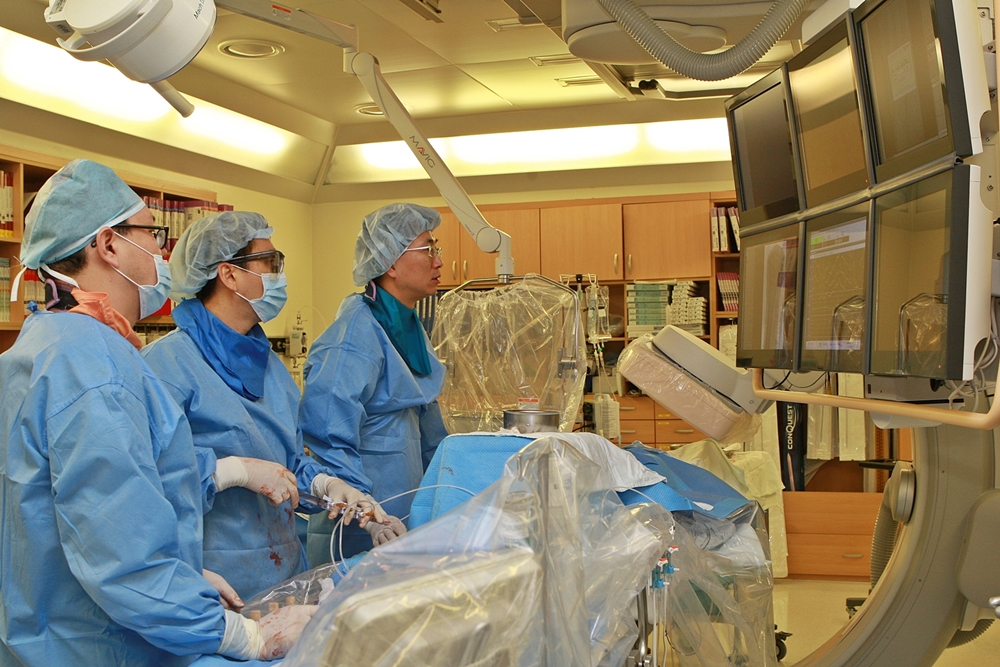 Memorable patient from abroad
I remember an American patient who had angina pectoris. The patient had a three-vessel disease according to the angiography results from another hospital. I explained that the symptoms of two-vessel disease had improved after stenting and the remaining one-vessel disease can be treated with medication. The patient expressed doubts after hearing my explanation. Based on Asan Medical Center research findings, I convinced the patient that medication is also effective for cardiovascular diseases and performed the treatment accordingly. The patient has been doing well for 5 years without any problem and praises me that I am the best doctor ever, giving me a thumb's up every time. Medical consultations are always held in an amicable atmosphere.
Feeling rewarded by treating international patients
I feel greatly rewarded when a patient leaves with a smile after finishing treatment. As I see it, international patients are no different from domestic patients. I see that international patients are also comforted from heartfelt empathy, thoughtful consideration and encouragement, and to me, that is the same with all the patients. Furthermore, there is no way to properly explain the overwhelming emotion I feel on seeing international patients, who travelled long for a revisit without hesitation, returning with a smile on their face once again.
Message to patients from abroad
I can only imagine how uneasy it would be for international patients to come all the way from a distant land to Asan Medical Center for treatment. All the medical staff at AMC are making various efforts to understand and empathize with these patients' pain and mental anxiety. AMC itself has organized staff training sessions to introduce different cultures of international patients who are frequent visitors to the hospital. In addition, western and halal meals are offered to international patients to suit their various tastes. Medical staffs think of all the patients as family members when providing care. I hope that international patients will feel comfortable visiting AMC and receive the best possible treatment to have their health restored as quickly as possible.
※ 'Meet AMC Experts' features dedicated doctors at AMC who shed light on international patients coming a long way from home for treatment.
Cardiology
Professor Seung-Whan Lee
Specialty : Coronary Artery Disease (Angina pectoris, Myocardial infarction), Peripheral Vascular Disease (Upper and lower extremity vascular disease, Carotid artery), Aortic Disease Clinic (Thoracic, Abdominal)
Position : Administrative Director, Division of Cardiology / Director, Peripheral Vascular Disease Center of AMC Heart Institute
Academic Activities : Approx. 300 research achievements published in world prestigious journals such as New England Journal of Medicine, Circulation, Journal of American College of Cardiology, etc.