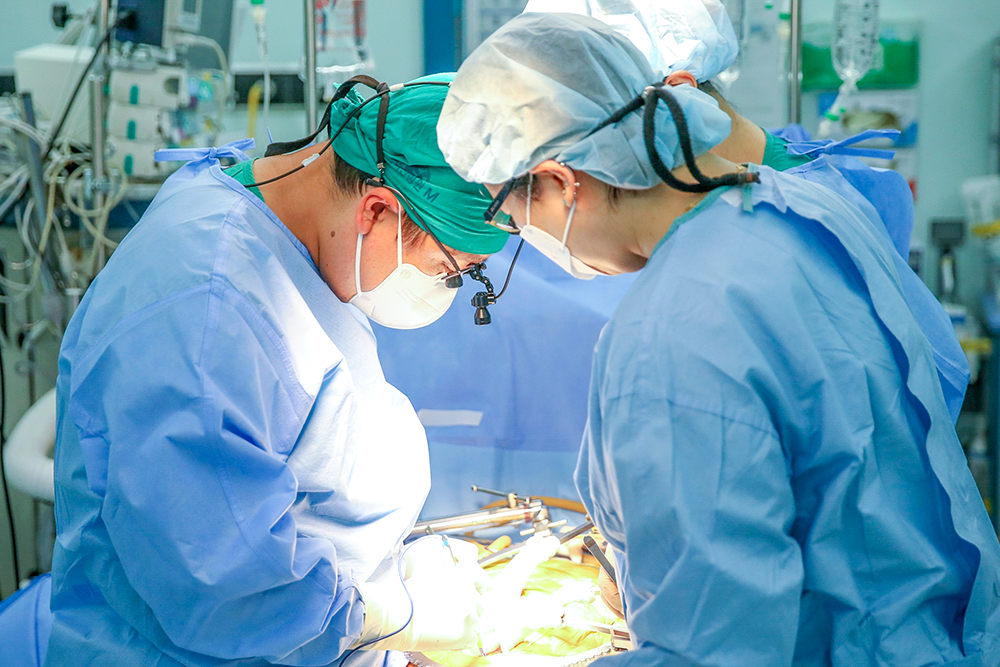 ▲ Professor Young Hoon Kim (left) of the Division of Kidney and Pancreas Transplantation performing the 7,000th kidney transplantation on December 14, 2022
AMC Kidney Transplantation Team of the Organ Transplant Center (Professor Young Hoon Kim, Professor Sung Shin, Professor Hyunwook Kwon, and Specialist Youngmin Ko of the Division of Kidney and Pancreas Transplantation) successfully performed Korea's first 7,000 kidney transplantation to Kim (female, 45), suffering from chronic kidney disease.
Asan Medical Center (AMC) has conducted 5,460 living donor kidney transplantation and 1,540 those of deceased donor since its first deceased donor kidney transplantation in 1990. From 2019, AMC has performed more than 400 cases of kidney transplantation annually, performing 1 out of 5 kidney transplantation in Korea. In particular, kidney transplantation are safely carried out to patients who have high risk of rejection. After the first successful ABO-incompatible kidney transplantation in 2009, AMC has performed Korea's highest number of 986 cases. Also, AMC has performed 353 cases of positive crossmatch kidney transplantation since 2009.
Even though high-risk patients were included, the graft survival rates of kidney transplantation are ▲ 98.5% (1 year), ▲ 90% (5 years), and ▲ 77.1% (10 years), which are equivalent to that of the United Network for Organ Sharing (UNOS) which are ▲ 99.9% (1 year) and ▲ 85.4% (5 years). The graft survival rate refers to the proportion of patients whose kidneys function normally after transplantation and do not require dialysis or re-transplantation.
The 1-year and 5-year graft survival rates of ABO-incompatible kidney transplantation are 97.4% and 92.3%, respectively, not significantly different from the graft survival rates of compatible kidney transplantation. Positive crossmatch kidney transplantation is also carried out safely after effective antibody-removal from the donor's kidney, so the 1-year and 5-year graft survival rates are 97.1% and 93.7%, comparable to compatible kidney transplantation. Of the 7,000 patients who received kidney transplantation, less than 1% of them lost kidney function due to postoperative complications.
AMC Kidney Transplantation Team recently achieved Korea's first 100 robot-assisted kidney transplantation. This is the result of two and a quarter years after the first robot-assisted kidney transplantation was performed at AMC. As a result of analyzing 690 open kidney transplantation and 100 robot-assisted ones conducted during the same period, the two surgeries showed similar clinical results in terms of kidney function and rejection, confirming that robot-assisted surgery is as equally effective as open surgery.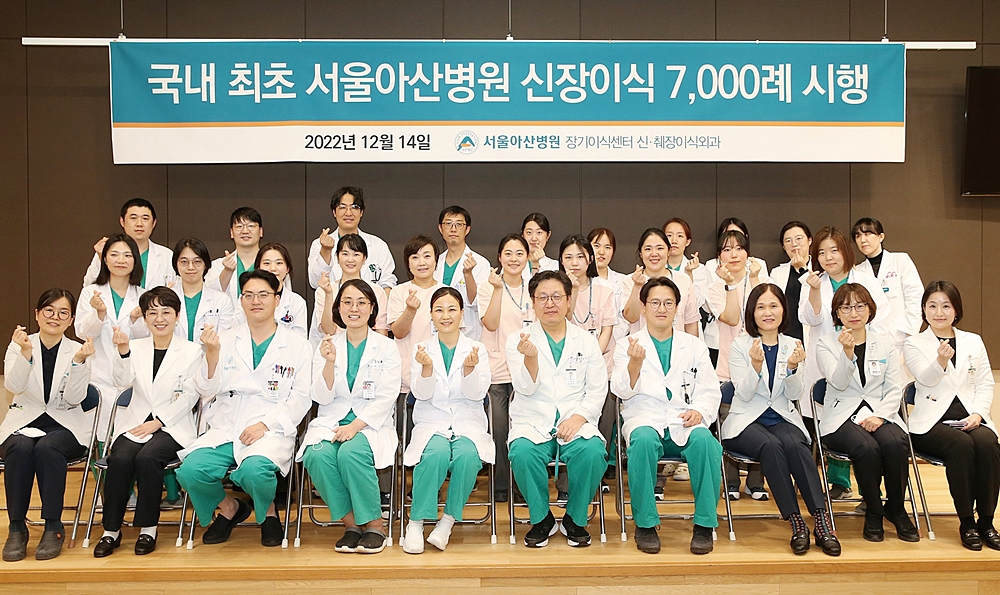 ▲ AMC Kidney Transplantation Team taking a commemorative picture during the 7,000th Kidney Transplantation Ceremony held on December 14, 2022