Professor Hyeon-Heon Lee, Division of Pediatric Dentistry
"Always trying to understand and provide treatment in children's perspective"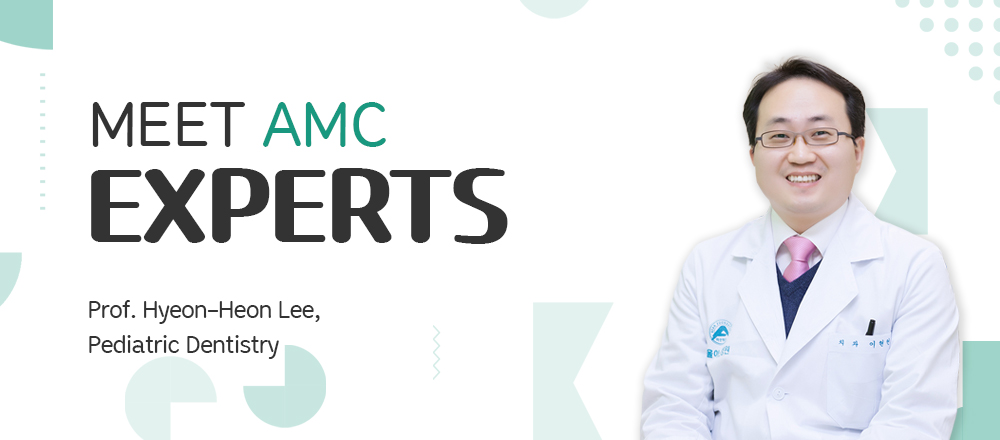 The Division of Pediatric Dentistry of Asan Medical Center was established in 2013, and was visited by more than 600 international pediatric patients from about 20 countries over the past decade. The reason behind the visits from overseas is the availability of the best possible treatment for critically ill pediatric patients at AMC Children's Hospital through a multidisciplinary care system in which various departments are engaged. Professor Hyeon-Heon Lee, who has been with the Division of Pediatric Dentistry since its inception, shares his story about international patient treatment.
Treatment philosophy behind treating patients from abroad
International pediatric patients who visit the Division of Pediatric Dentistry of Asan Medical Center (AMC) are those who require major surgery or have disabilities but hospitals in their own countries cannot offer treatment. Across all times and places, children are scared of the dentist. I believe the biggest role of a pediatric dentist is to prevent any unfortunate case in which children who have come a long way from their home fail to receive proper treatment just because of their fear of dentist. To help them overcome their fear of dental treatment, I try to stand in their shoe and provide explanations about the treatment from their point of view.
Specialized area of treatment and accumulated experience
At first, I chose Pediatric Dentistry simply because of my unconditional love for children. As I learned that more attention should be given to pediatric growth and development unlike general dentistry, I became all the more interested. I realized the importance of the role of Pediatric Dentistry when I saw that cavities (dental caries), trauma, and bad habits that had gone unnoticed in the childhood later developed into dental deformation, facial deformation, malocclusion, etc., causing greater pain to patients. However, children are more terrified of immediate dental treatment than what may happen later. In Pediatric Dentistry, outpatient general anesthesia and sedation are performed for children with dentophobia. Various treatments are provided from dental caries treatment to pediatric oral surgery, dental treatment for the disabled as well as orthodontic treatment for maxillofacial deformity including malocclusion, impacted teeth, and cleft lip and palate deformity. Despite that many people had been concerned about droplet infection during dental treatment due to the spread of COVID-19, an annual average of 5,500 outpatients visited AMC Division of Pediatric Dentistry over the past three years. This is almost equivalent to 5,511 patients in 2019 before the COVID-19 pandemic outbreak. I am constantly making research and study efforts about new treatment methods and technologies in order to provide optimal treatment to children who put their trust in and visit AMC Division of Pediatric Dentistry.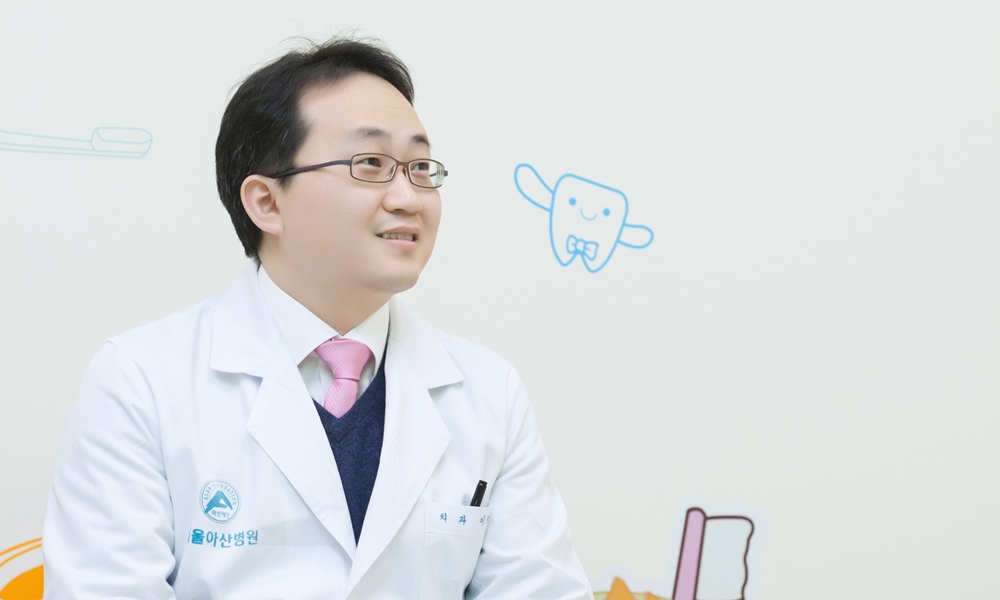 Considerations when treating international patients
Anyone from abroad would often encounter a great language barrier when visiting another country. If one does not understand what the other person is saying, it is easy to become frightened. This may also be the case with international patients who visit AMC. Audiovisual aids that are used in the treatment of international patients and professional medical interpretation offered by the International Healthcare Center are of great help in facilitating communication with international patients. What is taken for granted in South Korea is, in many cases, not treated the same in another country due to cultural difference. That is why I tend to be cautions and double check everything in detail when dealing with international patients. Through this process, I try to make international patients a lot more comfortable when receiving medical treatment.
Memorable patient from abroad
Around 5 years ago, a Pakistani family visited AMC for their son's orthodontic treatment for cleft lip and palate deformity. During the orthodontic treatment for cleft lip and palate deformity, the patient was found to have a jaw cyst. Treatment period was inevitably prolonged because an excision for cyst removal and even jaw orthopedic surgery were required. The family decided to become naturalized as Korean citizens for their son so he will be able to receive proper treatment, which greatly moved me. The cyst excision conducted in 2020 was successful and since then, the patient has been visiting regularly for cleft lip and palate correction. I also remember a father from the United Aram Emirates who earnestly persuaded his very frightened little daughter every time each tooth was treated for cavities.
Message to patients from abroad
International patients tend to visit AMC upon hearing its reputation or when introduced by a patient who had been treated at AMC. Nevertheless, I know that it takes a great courage to decide to seek treatment in a country where one is a stranger. Long-distance flights may be required depending on the distance, and the language and culture are different from one's own. AMC International Healthcare Center offers a virtual consultation service for international patients to help them determine whether or not to receive treatment at AMC before making a visit to the hospital. International patients can feel more comfortable to visit AMC through this pre-consultation because a direction for treatment can be established before departure. I hope international patients can put trust in and select AMC, and receive proper treatment.
※ 'Meet AMC Experts' features dedicated doctors at AMC who shed light on international patients coming a long way from home for treatment.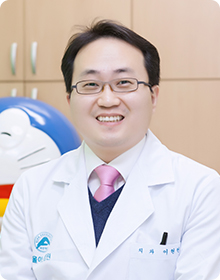 Pediatric Dentistry
Professor Hyeon-Heon Lee
Specialty : Preventive dental care, Dental caries, Pediatric oral surgery, Pediatric orthodontics, Sedation
Position : Professor, Division of Pediatric Dentistry
Academic Activities : Director, Laws and Judicial Affairs of Korean Academy of Pediatric Dentistry