The largest number of TAVI procedures in Korea with an organized system from diagnosis, procedure to recovery…Safe procedure regardless of age
Using an embolic protection device to prevent stroke·sedation to minimize anesthesia side effects
Implemented as the standard of care since its introduction in 2010 by Professor Seung-Jung Park... Patients relived from burden with the expanded national health insurance coverage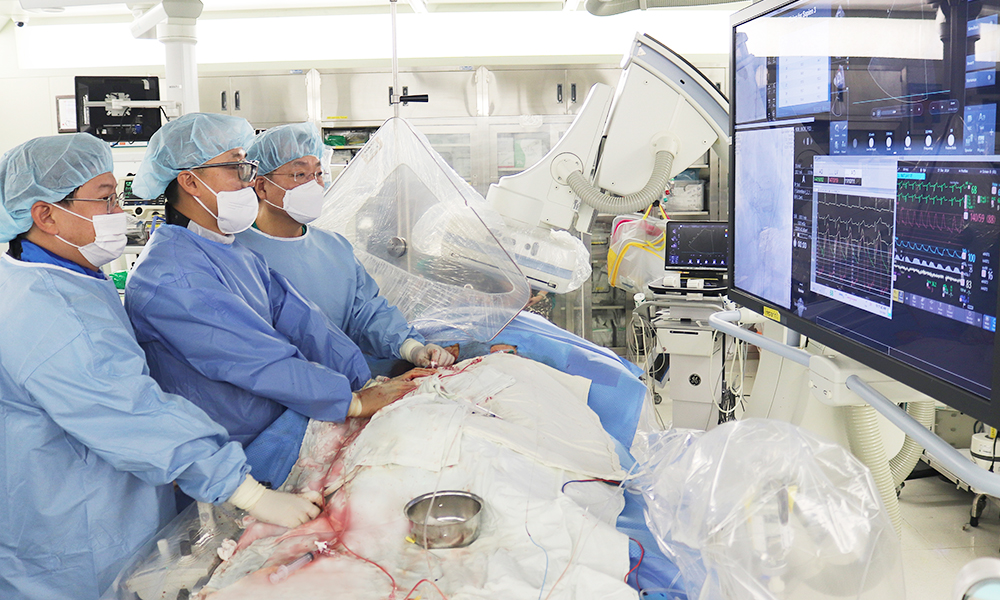 Asan Medical Center (AMC) Heart Institute achieved 300 cases of Transcatheter Aortic Valve Implantation (TAVI) in 2022.
TAVI is a medical procedure conducted in patients with aortic valve stenosis characterized by narrowing of the aortic valve due to calcification, preventing it from functioning properly. In comparison to open thoracic surgery, TAVI involves minimal incision through which an artificial valve is inserted to replace the aortic valve. TAVI was first performed in South Korea in 2010 by Professor Seung-Jung Park of the Division of Cardiology and since then, it has become a standard of care for the treatment of aortic valve stenosis.
However, conducting over 300 TAVI cases a year can only be achieved when both the hospital system and personnel's skillfulness are in place to safely carry out the entire process from examination, diagnosis, procedure to recovery in aortic valve stenosis patients.
In 2022, AMC Heart Institute became Korea's first to conduct 303 TAVI cases a year in patients with severe aortic valve stenosis. Since the first TAVI in Korean medical history conducted at AMC in March 2010, AMC became the first in Asia to perform 1,000 TAVI cases cumulatively in May 2021. By December 31, 2022, a total of 1,458 cases were performed and the number of TAVI cases is marking a sharp increase each year.
The successful achievement of 300 TAVI cases a year at AMC Heart Institute is considered to have been possible thanks to the skills and knowledge accumulated from long experience as well as organic teamwork of related medical specialists from various divisions including Cardiology, Thoracic and Cardiovascular Surgery, Cardiovascular Lab Team, and Heart Institute Nursing Team. This annual number of TAVI cases is one of the best in the Asia-Pacific region and is achieved by just over 10 large hospitals even in the U.S. where TAVI is performed the most in the world.
At AMC Heart Institute, an integrated weekly care session is held jointly by the Division of Cardiology and the Department of Thoracic and Cardiovascular Surgery medical staff to conduct thorough patient screening, discuss whether or not to perform TAVI, and determine valve size and type through preoperative, precise analysis of ultrasound or CT images.
In addition, a device called 'Sentinel' is used for high risk patients to prevent stroke that may occur intraoperatively during TAVI. While performing TAVI, Sentinel captures thrombus to prevent it from getting detached from blood vessels and flying into brain blood vessels. Sedation is used instead of general anesthesia to minimize anesthesia side effects and help safe, quick recovery of patients.
Thanks to the efforts to minimize side effects and minimally invasive procedures, patients stay hospitalized for a short time, around 4 days on average. Despite that patients belong to a high-risk group with an average age of around 80 years, it is revealed from a comprehensive evaluation of stroke incidents in patients, 30-day early mortality and other parameters that TAVI success rate achieved by AMC Heart Institute in recent 5 years is at a world-class level of 99%.
National health insurance coverage for TAVI also played a huge role in performing more than 300 TAVI cases a year. In recognition of TAVI's safety and effectiveness, national health insurance coverage has been expanded from May 2020 and the co-payment rate for elderly and high-risk patients decreased from 80% to 5%. Co-payment rates for medium-risk patients and low-risk patients are 50% and 80%, respectively.
With the expanded national health insurance coverage, elderly patients were relived from financial burden for TAVI treatment and more number of patients decided to undergo TAVI as a result. In fact, the average age of patients who underwent TAVI at AMC was 79.3 before the announcement of health insurance coverage expansion. The average age after the announcement increased by more than 1 year to 80.6 in a short period of time, and the oldest patient who underwent TAVI in 2022 was 96 years old.
For many years, AMC Heart Institute has provided training opportunities to medical professionals home and abroad by hosting various international symposiums and sharing the latest knowledge. In 2022, AMC Heart Institute was designated as one of TAVI Teaching Center of Excellence announced by Edward Lifesciences, a US-based global medical device manufacturer in categories of 'Minimalist TAVI,' characterized by the absence of general anesthesia and minimizing patient burden, and 'CT Imaging & Screening.'
Professor Duk-Woo Park of the Division of Cardiology said, "To be able to conduct 300 TAVI cases a year, it is essential to have an organized system through which the entire process from examination, diagnosis, procedure to recovery can be implemented seamlessly."
He added, "Based on AMC Heart Institute's unrivaled experience accumulated by performing the first and largest number of TAVI procedures in Korea, we will further do our best to become the last resort for elderly patients with severe aortic valve stenosis who are difficult to undergo surgery or seek non-invasive TAVI."