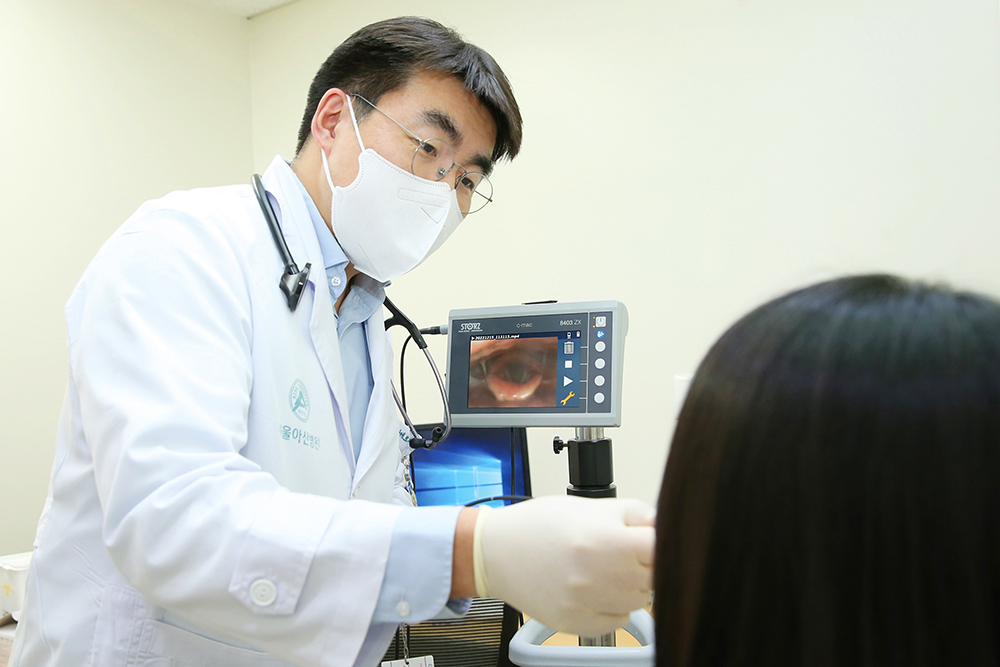 A diagnostic test to detect vocal cord or laryngeal dysfunction was introduced by Asan Medical Center for the first time in Korea. Vocal cord dysfunction is a condition where the larynx becomes hypersensitive and contracted or abnormally blocked in response to stimuli from cold air, perfume, physical exercise, etc. Because the symptoms manifest in forms such as cough, difficulty breathing and choking, vocal cord dysfunction had often been misunderstood as asthma and treated with high-dose steroid administration.
AMC team led by Professor Woo-Jung Song of the Department of Allergy introduced 'laryngoscopy with provocation' which is a useful test method for patients under treatment for severe asthma or intractable cough, or patients who are suspected to have vocal cord dysfunction. After a medical history-taking from a patient, a releasing stimulus is determined and induced. Then an observation is made for about 5 to 15 minutes using a flexible laryngoscope fixed on the patient to see if the vocal cords or vestibular folds are abnormally contracted or blocked. Patients who are diagnosed with vocal cord dysfunction can reduce the use of steroid and be offered customized treatments such as neuromodulating drugs, voice therapy, or breathing training.
According to the evaluation by the Ministry of Health and Welfare of Korea and National Evidence-based Healthcare Collaborating Agency, this test method was found to be safe with no side effects or complications and also effective as a health technology because the incidence rate of vocal cord dysfunction was about 60-70% higher than other methods without provocation. The method was designated as a new health technology in July 2022 and is currently available in clinical settings.