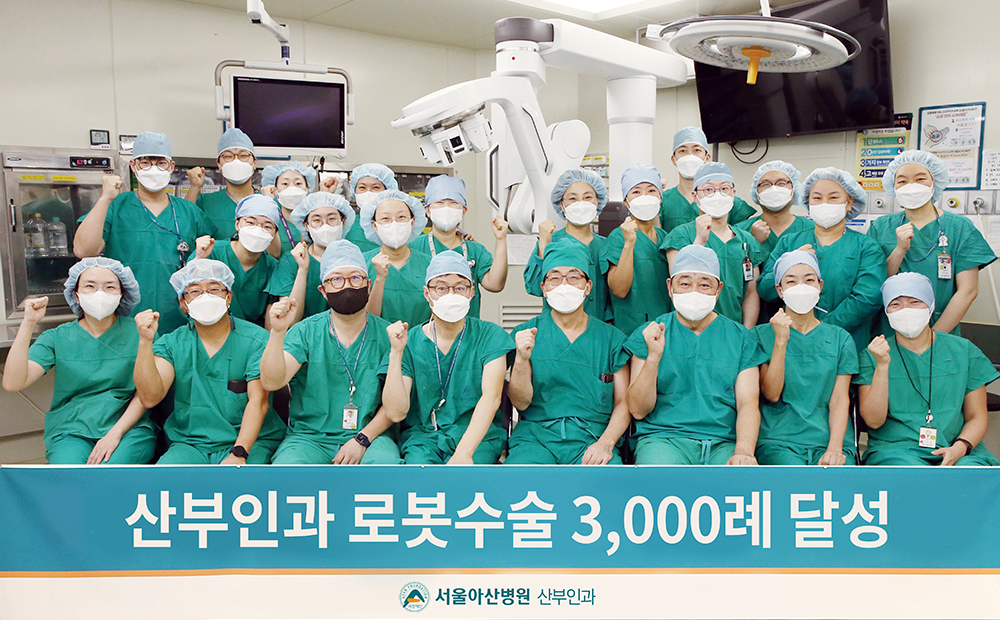 ▲ The staff of the Department of Obstetrics and Gynecology taking a commemorative photo on January 17 in celebration of achieving 3,000 robotic surgeries
The Department of Obstetrics and Gynecology of Asan Medical Center (AMC) achieved 3,000 cases of robotic surgery in November, 2022. This is an achievement in 11 years since the department started robotic surgery in 2011. The number of robot-assisted gynecologic surgeries marked a sharp increase as of 2019, and since 2021, about 1,000 cases of robotic surgeries have been performed each year. These numbers are the highest among gynecologic robotic surgery centers in Korea.
AMC has 7 units of the da Vinci Surgical System including 1 unit of the latest da Vinci SP, 5 units of da Vinci Xi, and 1 unit of da Vinci X. AMC is performing the most cases of single port robotic surgeries, using the da Vinci SP to make a single incision inside the belly button, in Korea. AMC has also developed a dual (one plus one) port surgery which involves an incision inside the belly button and another 8mm skin incision. Advanced surgeries with severe synechia or large tumors are performed safely using existing multi-port robotic surgery.
In case of benign diseases, robotic surgeries are performed for ▲ myomectomy in which the womb is preserved and only the uterine myoma is removed for fertility conservation, ▲ total hysterectomy or partial hysterectomy for adenomyosis or multiple uterine myomas, and ▲ ovarian cyst removal in which the ovaries are preserved and only the ovarian tumor is removed. In particular, AMC became Korea's first to achieve 200 cases of robot-assisted sacrocolpopexy due to pelvic organ prolapse in May 2020 and is expected to become Asia's first to achieve 400 cases in March this year. Precision treatment is performed using robotic surgery for malignant diseases including various gynecological cancers such as cervical cancer, endometrial cancer, and ovarian cancer.
In robot-assisted surgeries, sophisticated robot arms are used to perform surgery with 3D images and wide, enlarged vision that allows a more refined and delicate surgery than conventional laparoscopic or open surgery. Meticulous suturing is facilitated in robotic surgeries compared to conventional methods in addition to shorter surgery time, less bleeding, and smaller scar, which altogether contributes to quick patient recovery. It is particularly advantageous in that tissue damage can be minimized in cancer patients, infertility patients, and young fertility preservation patients who require even more sophisticated surgery.
Professor Hye-Sung Won, the Chair of the Department of Obstetrics and Gynecology, said, "We aim to treat various gynecological diseases by offering optimized treatment options for each patient and provide world-standard robot-assisted gynecologic surgery beyond Korea."