Professor Jong-Woo Choi, Department of Plastic Surgery
"Continuous research and preparation for patients to whom face transplantation is the last hope."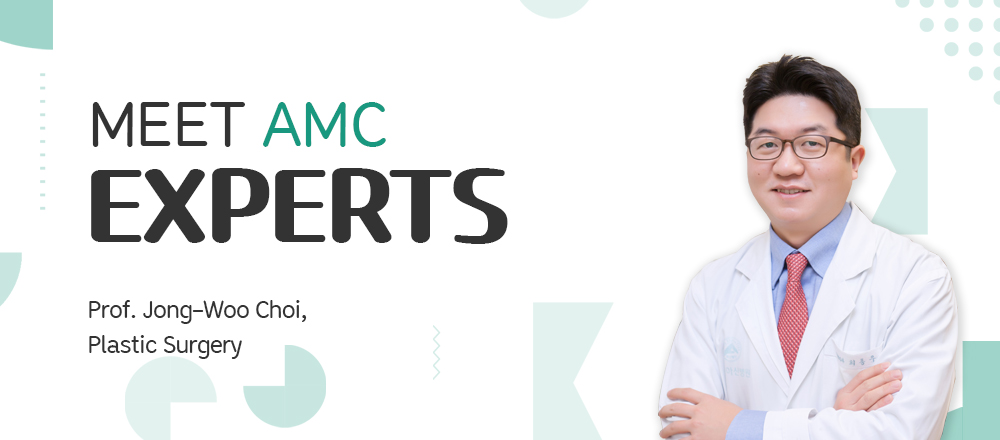 The Department of Plastic Surgery of Asan Medical Center (AMC) was visited by more than 2,700 international patients from 70 countries over the last decade. More than 400 international physicians visited the department during the past 10 years to learn the medical techniques of world-leading AMC Plastic Surgery Team. Professor Jong-Woo Choi, the Chair of the Department of Plastic Surgery and a world-class specialist in facial reconstruction, striving to help patients return to their ordinary lives, shares his story about international patient treatment.
Treatment philosophy behind treating patients from abroad
Doctors of tertiary hospitals are at the forefront of medical care. I believe that doctors should tenaciously develop and research leading treatment and surgical methods to offer the best possible medical care to patients. However, I make it a principle to have new techniques and approaches under constant verification and gradual application so that patients are prevented from being harmed. The Department of Plastic Surgery of Asan Medical Center (AMC) is constantly sharing concerns and intensively seeking solutions together with patients. These efforts have led the patients who had difficulty receiving treatment in other hospitals despite trying various treatment methods visit AMC.
Specialized area of treatment and accumulated experience
Since childhood, it was natural for me to dream of becoming a surgeon, growing up watching my grandfather and father who were surgeons as well. In particular, I have seen many pictures of patients whose faces were severely crumpled since my early days through my father as he was a plastic surgeon. Looking at those photos, I became greatly interested in facial reconstruction and eventually chose the field of craniofacial surgery. I was trained for about 1 year from 2011 in several overseas hospitals including MD Anderson Cancer Center in the U.S. During training, I had a meaningful time with world-renowned scholars, thinking about and conducting research on craniofacial trauma, bimaxillary surgery, sleep apnea syndrome, head and neck cancer reconstruction, and face transplantation. Based on the experience from training, I am using various approaches in treating patients at AMC Plastic Surgery. So far, I have performed more than 1,500 cases of head and neck microsurgery for reconstruction after head and neck cancer removal surgery with a success rate of 98%. In the field of craniofacial surgery, I have developed a medical procedure called 'One piece fronto-orbital advancement without bandeau using distraction' and has performed more than 100 cases. Also, the procedure is now used in the U.S. and Europe. It was a new surgical approach of eliminating bandeau (band-shaped incision of the frontal bone) which was conventionally performed for fronto-orbital advancement. I have performed over 500 cases of bimaxillary surgery and facial bone contouring surgery until now. In the field of nasal reconstruction, I am focusing on high-difficulty nose plastic surgeries using self-costal cartilage for complications related to silicone implants. As face transplantation is the only hope for patients who cannot be treated with existing medical technology, I am putting continuous efforts into research and preparation regarding face transplantation. I have presented more than 100 lectures overseas and published about 130 SCI papers to make AMC Plastic Surgery known to the world. In 2020, I became the first in the world to publish a book related to the Surgery-First Orthognathic Approach, a new technology widely used around the world.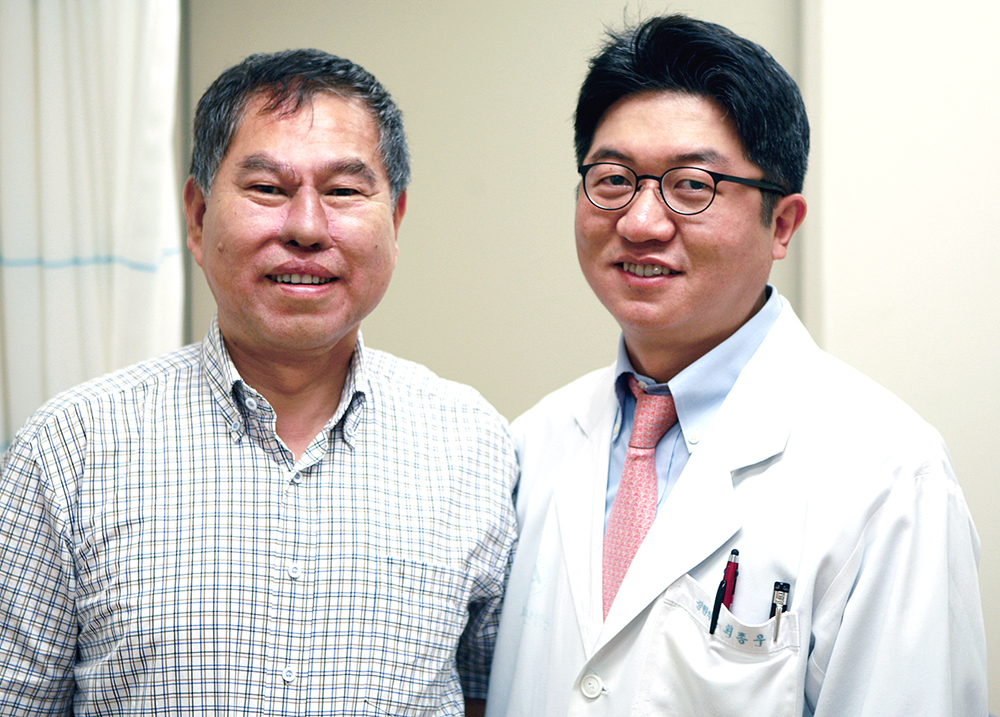 ▲ Professor Jong-Woo Choi(right) with the Chinese patient who had nasal reconstruction
Considerations when treating international patients
There is a universal notion of beauty that is pursued globally. However, each country has its beauty standards and patients have different expectations of their appearance after plastic surgery. I am trying to narrow the gap of thoughts through elaborate explanations and communication with international patients. Before surgery, I use computer simulation and a 3D camera for surgical planning to prevent issues that may arise during surgery due to the difference in the facial anatomy of international patients.
Memorable patient from abroad
In 2014, I performed a nasal reconstruction on a Chinese patient whose nose was entirely removed due to cancer and successfully restored the appearance of the nose as well as its function. The patient was very satisfied and thanked me for not having to wear a fake nose any longer, and continues to keep in touch even after returning to China. Recently, I met a patient from Madagascar who was suffering from a giant tumor in the mouth, larger than 15cm, almost the size of his face. The patient was having difficulty managing daily activities due to the giant cell reparative granuloma that had been neglected for about 10 years. It was a rewarding experience to give a new life to the young man by removing the giant tumor and performing mandibular reconstruction.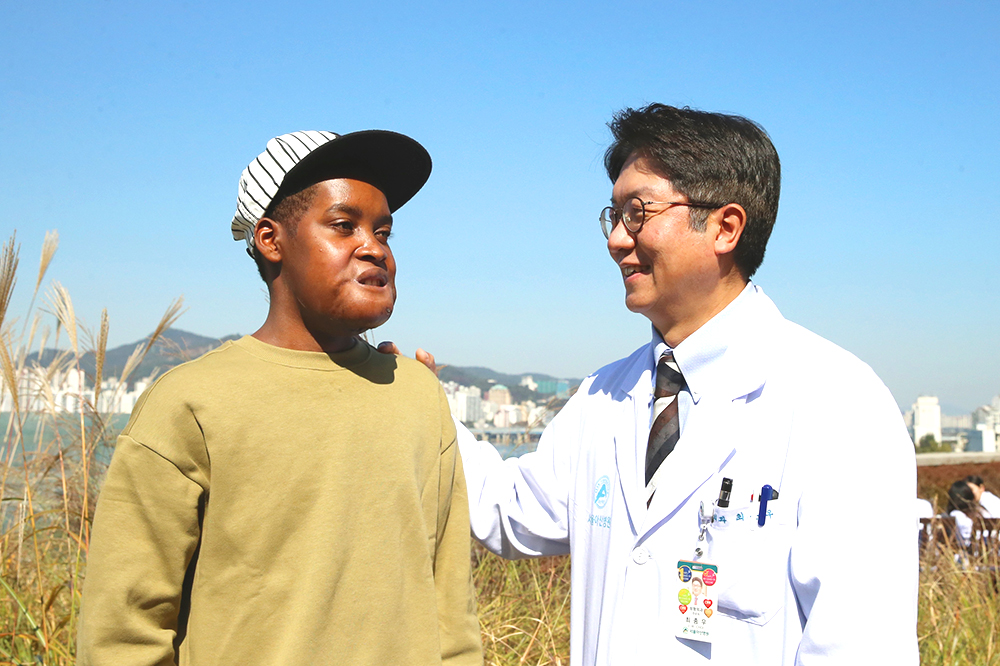 ▲ Professor Jong-Woo Choi(right) with the Madagascar patient who had a giant tumor removed
Feeling rewarded by treating international patients
Communicating with international patients is not easy, but what is desired by patients is similar regardless of nationality and race. They want to receive treatment in a comfortable atmosphere as if they would be in a local hospital. To cater to their need, international physicians who are training at AMC Plastic Surgery are invited to medical consultations for international patients. I could see that patients seem relaxed to be with the international physicians in clinic and receive treatment more comfortably. It is rewarding as a doctor to see patients comfortable while receiving treatment.
Message to patients from abroad
There are more international patients than expected who are not properly treated at home. I hope AMC will be a hope for both domestic and international patients. AMC Plastic Surgery proudly presents a world-class performance in the field of cosmetic surgery as well as reconstruction plastic surgery. I wish international patients who have difficulty receiving treatment at a local hospital can have their ordinary life restored through successful treatment at AMC.
※ 'Meet AMC Experts' features dedicated doctors at AMC who shed light on international patients coming a long way from home for treatment.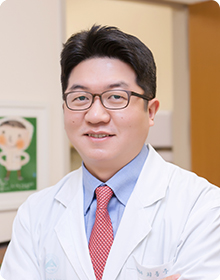 Plastic Surgery
Professor Jong-Woo Choi
Specialty : Facial Deformity, Head and Neck Reconstruction, Rhinoplasty, Facial Fracture, Facial Bone Contouring Surgery, Bimaxillary Surgery
Position : Chair, Department of Plastic Surgery / Professor for International Healthcare Center / Deputy Director, Planning and Coordination / Head, AMC International Business Development
Academic Activities : Chairman, Korean Cleft Palate-Craniofacial Association / Director, Korean Society of Plastic and Reconstructive Surgeons / Chairman of Scientific Committee, Korean Society of 3D Printing in Medicine / Published over 130 scientific papers for 16 years / Participated in over 100 international lectures