Professor Yong-Gil Kim, Division of Rheumatology
"Training at Stanford University's Immunology and Rheumatology Clinic led to biomarker development"
Recognized as the Center of Excellence by the Asia Pacific League of Associations for Rheumatology (APLAR)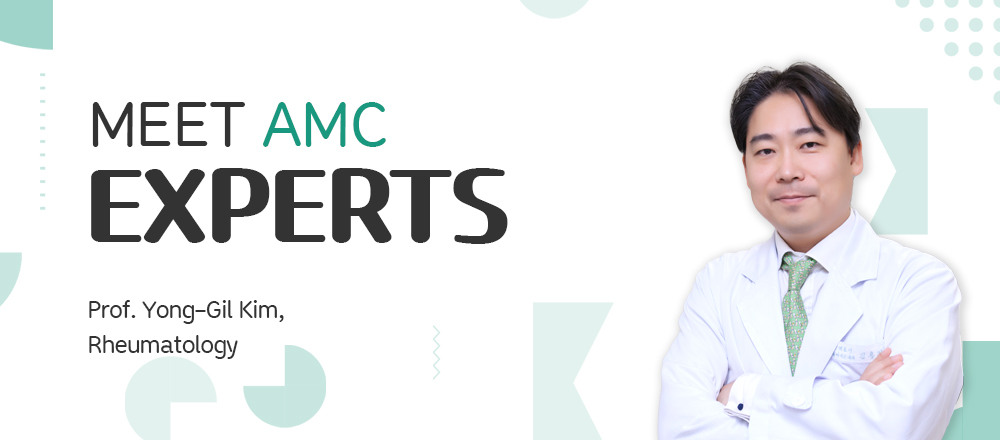 For over a decade, the Division of Rheumatology of Asan Medical Center (AMC) has received over 1,100 international patients from almost 40 countries Professor Yong-Gil Kim of the Division of Rheumatology is engaged in clinical practices and ongoing research as the Director of the Convergence Medicine Research Center, Asan Institute for Life Sciences. Professor Yong-Gil Kim, who strives to give hope to patients suffering from rare and difficult-to-treat rheumatic diseases, shares his story about international patient treatment.
Treatment philosophy behind treating patients from abroad
Doctors need to have the knowledge and expertise to make the best treatment decisions for their patients. They should also make every effort to make quick decisions so that patients do not miss out on the right treatment timing. In addition to providing a diagnosis for a patient's symptoms, doctors should also take into consideration the patient's physical, social, and mental well-being. To achieve this, doctors must communicate with their patients, empathize with them, build a relationship of trust, and respond sensitively to patients' anxiety or questions during medical procedures.
Specialized area of treatment and accumulated experience
Autoimmune diseases are a complex area of medicine that can be challenging for internal medicine doctors to understand and explain. Driven by curiosity, I pursued this field and became more interested in rheumatology due to the change in the treatment paradigm for rheumatic diseases following the advent of biological agents in 2000. Rheumatic diseases include rheumatoid arthritis and gout as well as those designated by the Ministry of Health and Welfare as rare, intractable diseases such as ankylosing spondylitis, systemic lupus erythematosus, Sjögren syndrome, and systemic sclerosis. Among these various rheumatic diseases, I am particularly interested in rheumatoid arthritis, ankylosing spondylitis, and systemic lupus erythematosus. In 2011, I went to Stanford University's Immunology and Rheumatology Clinic in the United States, stayed there for one and a half years for training, and conducted a proteome-based biomarker study aimed to overcome the lack of useful diagnostic antibody for ankylosing spondylitis. This study inspired me to continue the study of omics-based biomarkers for ankylosing spondylitis and various rheumatic diseases at Asan Medical Center. In 2022 alone, the Division of Rheumatology of Asan Medical Center treated over 46,000 outpatients and 110 inpatients and performed more than 4,000 musculoskeletal ultrasounds and nail fold capillaroscopies. I published more than 150 research papers in SCIE on rheumatology and immunology through clinical and translational research. In recognition of such excellent clinical and research achievements, the Asia Pacific League of Associations for Rheumatology (APLAR) awarded AMC Division of Rheumatology as the Center of Excellence in 2022.
Considerations when treating international patients
It is challenging to ask international patients to specifically describe their symptoms if they speak a different language from mine. Fortunately, the interpretation service provided by AMC International Healthcare Center coordinators facilitates accurate and quick communication. Also, sufficient time is allocated for medical consultation to increase international patients' trust and satisfaction. Efforts are in place to understand international patients better and avoid misunderstandings due to cultural differences.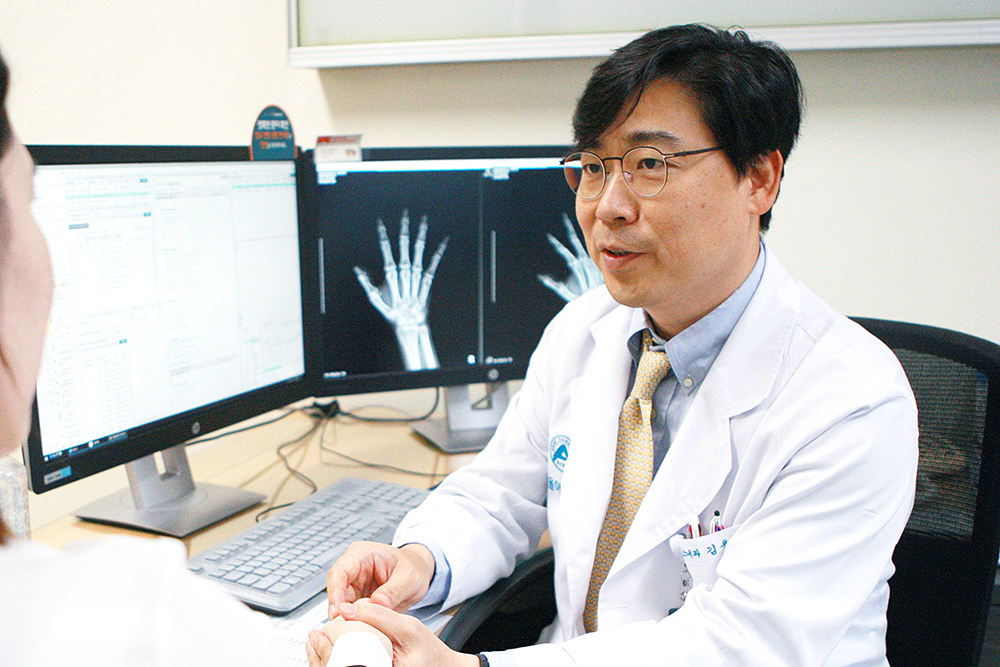 ▲ Professor Yong-Gil Kim of the Division of Rheumatology consulting a patient with rheumatoid arthritis
Memorable patient from abroad
One of the patients that I remember vividly is a 30-year-old Mongolian who came to Asan Medical Center due to systemic edema and shortness of breath with unknown etiology. Although the patient was diagnosed with systemic lupus erythematosus, she already had renal failure and required both immunosuppressant and dialysis treatments. The patient agreed to have monthly immunosuppressant injections at Asan Medical Center and was discharged from the hospital because it was difficult for her to stay hospitalized for an extended period. For the first six months, she showed stable condition as she visited Asan Medical Center every month and received immunosuppressant injections. Due to financial constraints, however, she found it hard to travel back and forth between Mongolia and South Korea and started sending me blood test reports instead. The reports from Mongolia indicated that the patient's condition had deteriorated, and I did not hear from her anymore after one year. During her treatment at Asan Medical Center, she gave me a model of Ger (Mongolian traditional dwelling) and a traditional Mongolian doll, and I am reminded of her every time I see them.
Message to patients from abroad
Through treating international patients, I have come to realize that many countries still lack adequate medical infrastructure. Some international patients come to Asan Medical Center merely to get a diagnosis because it is difficult to do so in their home country's hospitals. While rheumatic diseases are relatively well-known and easily diagnosed in South Korea, other countries are still unfamiliar with the diseases. What comes naturally and easily to us may not be the same for international patients. Understanding how desperate these international patients must have been to travel far for treatment, I strive to make an accurate diagnosis and fill the doctor's note with details of how they should be treated in the future. Rheumatic diseases are no longer incurable. I hope patients put their trust in and visit Asan Medical Center as they can be appropriately treated through consultation.
※ 'Meet AMC Experts' features dedicated doctors at Asan Medical Center (AMC) who shed light on international patients coming a long way from home for treatment.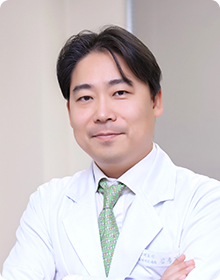 Rheumatology
Professor Yong-Gil Kim
Specialty : Rheumatic diseases, rheumatoid arthritis, lupus, gout, ankylosing spondylitis
Position : Chair, Division of Rheumatology / Director, Convergence Medicine Research Center
Academic Activities : Director, Research Committee of Korean College of Rheumatology / Member, Asia Pacific League of Associations for Rheumatology (APLAR) & East Asian Group of Rheumatology (EAGOR) / Member, Korean Association of Internal Medicine & Korean Association of Immunologists / Published over 150 scientific papers