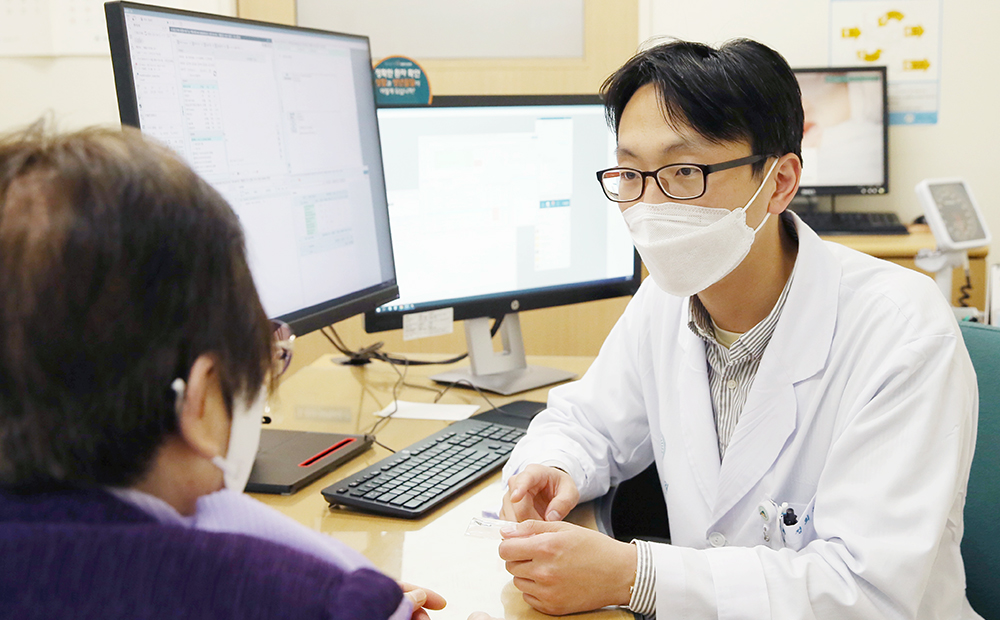 ▲ Professor Heewon Jung of the Division of Geriatrics at Asan Medical Center sees an elderly patient with mastication difficulties
A research team led by Professor Heewon Jung of the Division of Geriatrics analyzed the degree of frailty and masticatory function of the elderly. It revealed that the ratio of frailty was 2.68 higher in seniors who had difficulty chewing food compared to those who did not.
The research team examined 3,018 seniors aged 65 or older who participated in the Korea National Health and Nutrition Examination Survey from 2016 to 2018 to study the degree of frailty and masticatory function. A survey was conducted to ask the subjects whether they experienced difficulty chewing food to study the masticatory function and senescence was calculated as the ratio of items that were currently true out of 36 items that can affect senescence.
First, 3,018 subjects were divided into three groups: non-frail group of 1,222 subjects, pre-frail group of 1,014 subjects, and frail of 782 subjects. It was reported that 365 subjects (29.9%) of the non-frail group, 426 (42%) subjects of the pre-frail group, and 465 subjects (59.5%) of the frail group had chewing difficulty. These numbers were adjusted so that the comparison groups became similar in age, gender, BMI, and medical conditions. According to the analysis of the adjusted numbers, the number of seniors who reported masticatory difficulty was about 2.68 higher in the frail group and 1.49 higher in the pre-frail than those who did not report the difficulty.
The research team also conducted a statistical analysis of the factors related to masticatory difficulty and found that the difficulty of chewing increased by about 1.29 times in the presence of periodontal diseases. In addition, additional loss of a healthy permanent tooth, excluding wisdom or decayed teeth, was associated with a 3% decrease in masticatory function each.
The research findings were recently published in the international academic journal, 'Clinical Interventions in Aging.'