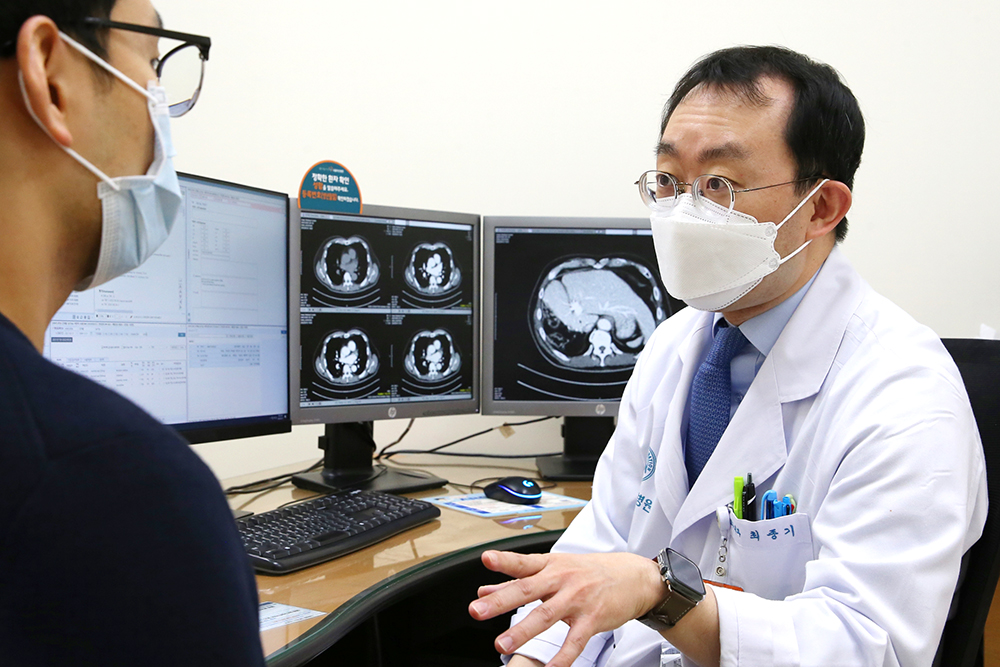 ▲ Professor Jonggi Choi of the Division of Gastroenterology consulting a liver cirrhosis patient in his 30s
A research team led by Professor Jonggi Choi of the Division of Gastroenterology at Asan Medical Center conducted a comparative analysis of 500,000 adult patients with liver cirrhosis and found that having liver cirrhosis was associated with a higher risk of herpes zoster compared to the healthy population.
The research team used data from the Health Insurance Review and Assessment Service in Korea to study 504,986 adult patients aged 20 years or older newly diagnosed with liver cirrhosis between 2009 and 2015 and analyzed the incidence of herpes zoster for an average of 6.5 years (up to 10 years). Of these, 70,294 patients developed herpes zoster between 2009 and 2019. The incidence of herpes zoster was 21.6 patients per 1,000 person-years. This number indicates 21.6 cases of herpes zoster occurred in 1,000 patients with liver cirrhosis over a year of observation. The number of patients hospitalized due to herpes zoster was 1.81 per 1,000 person-years.
Patients with liver cirrhosis were compared with those without liver cirrhosis after adjusting factors such as age and gender. The risks of developing herpes zoster and hospitalization due to herpes zoster were approximately 9% and 48% higher, respectively than those without liver cirrhosis. When analyzed by age, the risk of developing herpes zoster in patients with liver cirrhosis compared to those without liver cirrhosis was 41% higher in the 20s, 16% higher in the 30s, 17% higher in the 40s, 8% higher in the 50s, 8% higher in the 60s, and 6% higher in the 70s. In addition, the risk of developing herpes zoster was higher in patients who were women, took steroid immunosuppressants, and had decompensated liver cirrhosis with complications.
The Korean Association for the Study of the Liver and the Korea Liver Foundation funded the research. The findings were recently published in the 'American Journal of Gastroenterology,' an international academic journal published by the American Society of Clinical Gastroenterology.