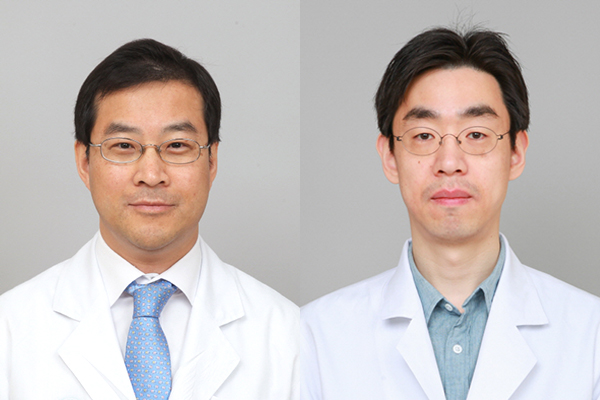 ▲ (from the left) Professor Sun Ju Chung and Professor Chang Ohk Sung
Parkinson's disease is a degenerative brain disease with rapidly increasing incidence due to the growing elderly population. Although genomic variations are reported to play a significant role in the development of Parkinson's disease, no research has yet clearly identified them. A research team led by Professor Sun Ju Chung of the Department of Neurology and Professor Chang Ohk Sung of the Department of Pathology of Asan Medical Center studied 400 Koreans with Parkinson's disease and 200 healthy individuals. Using whole-genome sequencing, the team successfully identified new genomic risk elements of Parkinson's disease from high-resolution single-nucleotide variant (SNV) to copy number variation (CNV).
According to the research, more genomic deletions were associated with a higher risk of Parkinson's disease overall. In particular, small genomic deletions or SNVs in non-coding regions were located at enhancers, important regions that form the three-dimensional structure of the genome. It was demonstrated that the downstream signaling pathways of these genes constitute molecular pathways associated with Parkinson's disease. By studying high-resolution whole genomic variations at the whole genome level in patients with Parkinson's disease, the team confirmed the significance of previously unknown non-coding genomic regions and small genetic deletions.
Professor Sun Ju Chung said, "This research is meaningful in that it suggested keys to the identification of the genomic cause of Parkinson's disease and the development of new treatments in the future."
The research results were published in 'Experimental and Molecular Medicine,' a renowned biochemistry and molecular biology academic journal.