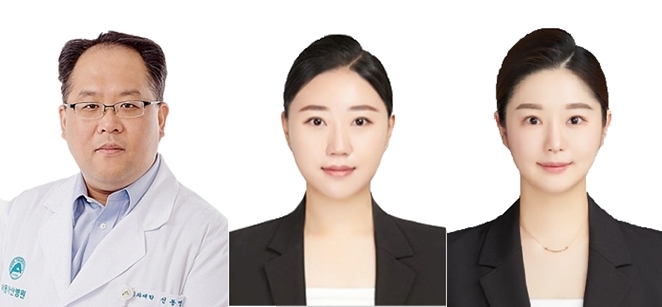 ▲ (from the left) Professor Dong-Myung Shin, Doctor Hyein Ju, and Doctor Chae-Min Ryu
A research team led by Professor Dong-Myung Shin and Doctor Hyein Ju of the Department of Cell and Genetic Engineering along with Doctor Chae-Min Ryu of the Center for Cell Therapy has recently published their findings that demonstrate the critical role of activating transcription factor-2 (ATF2) protein, a gene expression controller, in determining the therapeutic effects of mesenchymal stem cells (MSC) for asthma treatment.
MSCs are known for their anti-inflammatory properties and their ability to differentiate into various cells, making them an essential raw material for stem cell therapies. However, the generation of active oxygen during the cultivation process limits their anti-inflammatory effect. To address this issue, the research team treated MSCs with AA2G, a vitamin C derivative, and found that it increased their antioxidant function. The team discovered that ATF2 was expressed during this process, and its activity also increased. Additionally, by genetically manipulating the expression of ATF2 in MSCs, the team found that the therapeutic effects of MSCs, such as their self-renewal capability, ability to migrate to damaged tissues, anti-inflammatory function, and proangiogenic ability, increased or decreased accordingly.
Based on these findings, the research team administered MSC treatment with increased ATF2 expression to an animal model with asthma and observed that the bronchial inflammatory cell count decreased by about 50%, and pulmonary fibrosis decreased by about 70%, compared to administering general stem cell treatment. These results suggest that MSC therapy can be used for intractable severe asthma.
Professor Dong-Myung Shin said, "If the research findings can be used to develop advanced stem cell therapy, I believe the possibility of treating intractable asthma will be wide open."
The research results have been published in 'Experimental and Molecular Medicine,' a renowned academic journal in biochemistry and molecular biology.