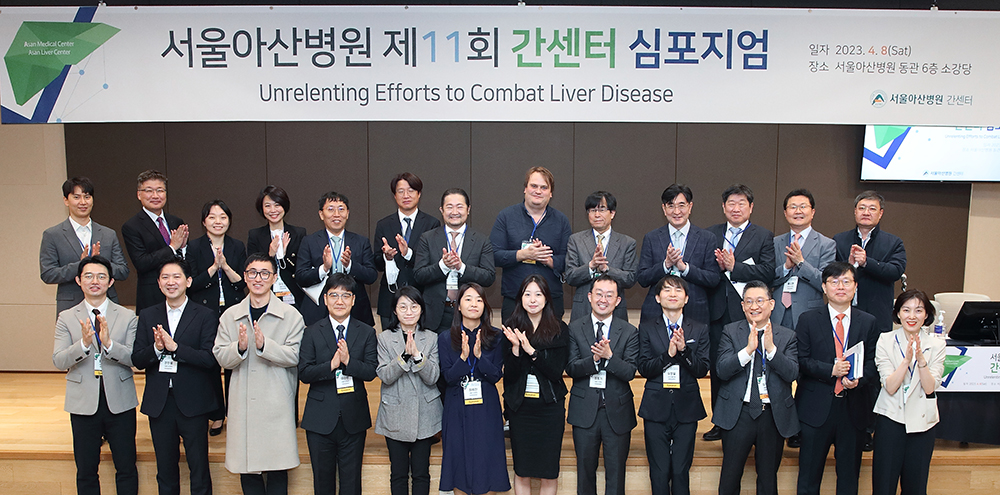 ▲ The participants of the 11th Asan Liver Center Symposium are taking a commemorative photo
The 11th Asan Liver Center Symposium took place at Asan Medical Center on April 8, focusing on the theme of 'Unrelenting Efforts to Combat Liver Disease.' Attended by 200 medical professionals both within and outside AMC, the symposium featured presentations and discussions on a range of topics. These included ▲up-to-date of the research in liver disease at Asan Medical Center, ▲forefront advances in hepatocellular carcinoma (HCC) surveillance, ▲treatment of hepatocellular carcinoma, and more.
Distinguished guest speakers, namely Professor Jean Charles Nault from the National Institute for Health and Medical Research (INSERM, France) and Professor Yoshimitsu Kengo from Fukuoka University, Japan, delivered insightful lectures. Professor Jean Charles Nault's lecture on ' HCC biology and precision medicine' and Professor Yoshimitsu Kengo's on 'Prediction of microvascular invasion of HCC on gadoxetate-enhanced MRI' were particularly well-received by the audience.