Dr. Sarah Al Safi, International Fellow from Kuwait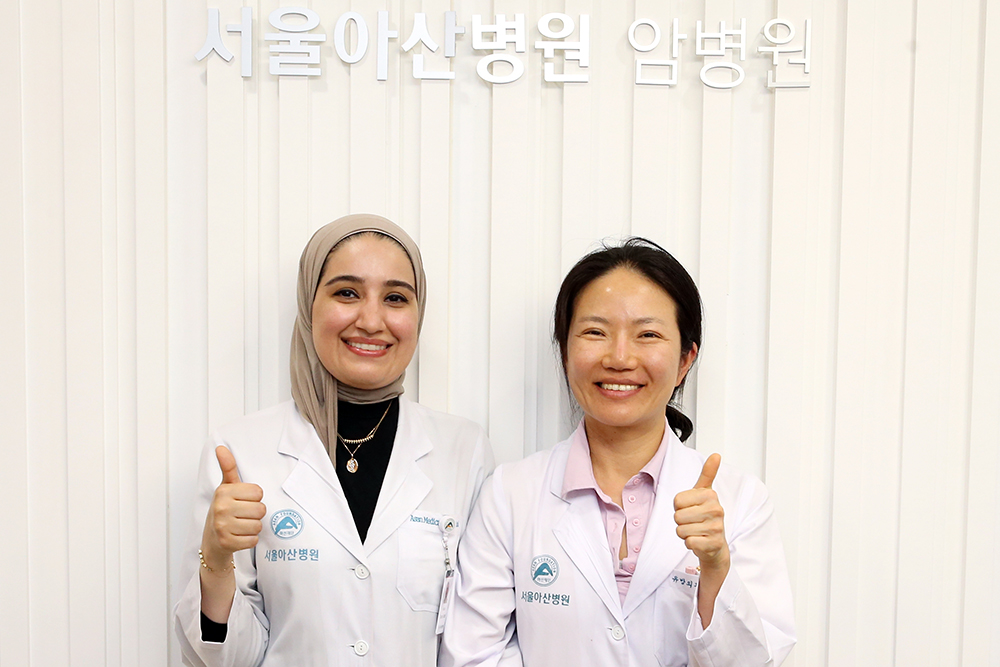 ▲ Dr. Sarah Al Safi(left) and Professor Hee Jeong Kim
Dr. Sarah Al Safi is a general surgeon who has been working at Al-Adan Hospital, the largest healthcare institution in southern Kuwait. She has been undergoing training under the guidance of Professor Hee Jeong Kim of the Division of Breast Surgery at Asan Medical Center (AMC) since October of the previous year. Dr. Sarah Al Safi shares her experience on the international physician training at AMC.
How did you become familiar with Asan Medical Center?
Initially, I became acquainted with Asan Medical Center while employed at Al-Adan Hospital in Kuwait, when I encountered a research paper authored by the medical staff of AMC. As a healthcare professional, I was intrigued by AMC's consistent high rankings in Newsweek's annual 'World's Best Hospitals' rankings. In particular, its impressive 7th place ranking in the field of cancer in 2023 caught my attention, as this is my area of specialty. Furthermore, Doctor Muneera Ben-Nahki, a colleague at the same hospital, had returned from training at AMC and had spoken highly of it on several occasions. As a result, I became motivated to apply to AMC in order to broaden my medical knowledge and enhance my skills.
What was your training experience at AMC?
AMC provided an excellent training environment with a well-structured training program and the latest equipment available. However, at first, I encountered some difficulties as the hospital's practices differed significantly from those of my hospital in Kuwait. Fortunately, my team members, including Breast Surgery professors, fellows, and OR nurses, were supportive, and I was able to adjust quickly. They taught me how to provide comprehensive medical care to patients, from hospitalization to surgery to discharge, and helped me feel like a part of the team. I was fortunate to join the Division of Breast Surgery at AMC, and I am grateful to everyone who contributed to my training experience.

▲ [Left] (from the left) Fellow Ah-Yoon Kim, Fellow Young-Won Lee, International Fellow Sarah Al Safi, Professor Hee Jeong Kim, and Fellow Young-Jin Lee taking a commemorative photo.
▲ [Right] Professor Hee Jeong Kim(center) and Dr. Sarah Al Safi during the Annual Congress of the Korean Surgical Society in November, 2022.
What are the similarities and differences between Al-Adan Hospital and AMC?
Both Al-Adan Hospital in Kuwait and AMC strictly adhere to patient safety guidelines and continuously explore the latest medical technology. However, AMC treats a significantly higher number of patients and performs more surgeries than Al-Adan Hospital. While participating in surgeries and observing treatment sessions at AMC, I was exposed to a diverse range of patient cases and learned about the benefits of multidisciplinary treatments, which are actively practiced at AMC. Moreover, despite its vast scale, AMC operated efficiently and effectively, with well-structured systems in place for treatment, outpatient care, and payment.
How do you typically spend your free time?
In my free time, I enjoy taking walks or cycling, particularly when the weather is pleasant. I like to explore downtown Seoul and its surroundings. Additionally, I find outdoor activities appealing, and I tried skiing in South Korea for the first time, which was an incredibly enjoyable experience. I hope to return to the slopes next winter for another round of skiing (laughs). Despite the cultural differences between Kuwait and South Korea, I find that there are many similarities, such as a respectful attitude towards elders, the use of polite language, the importance of family, and strong social connections. I am eager to make the most of my remaining time in this distant yet familiar country.

▲ [Left] First time skiing in January, 2023
▲ [Right] During hiking at Bukhan Mountain