More than 3,300 heart experts from 81 countries shared the latest knowledge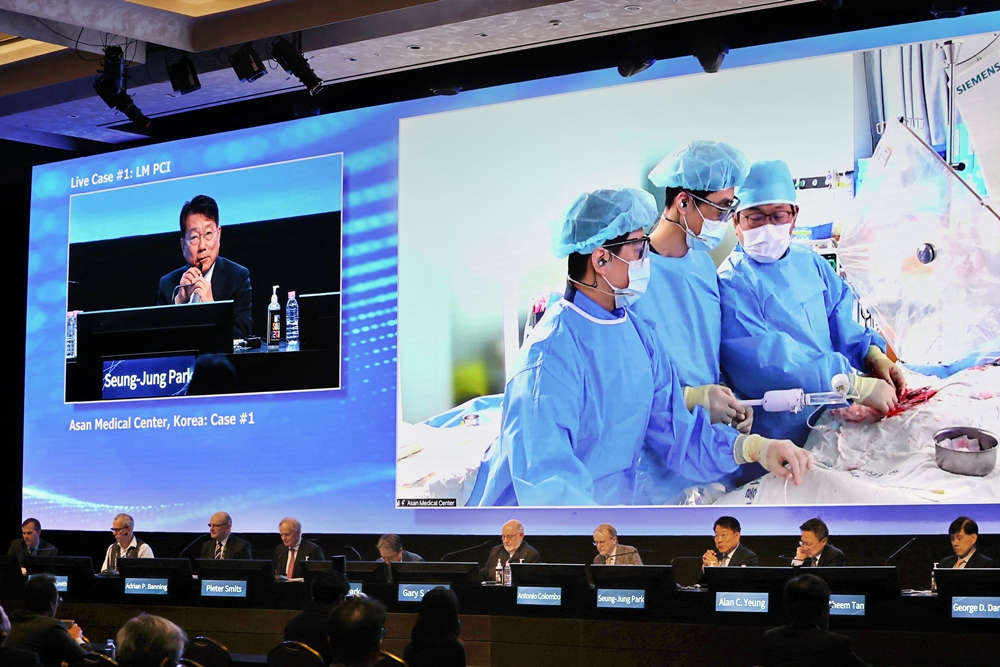 ▲ During a Live Case session on May 7, panelists, including Professor Seung-Jung Park (left), discussed as they watched the left main coronary artery intervention demonstrated by the team led by Professor Jung-Min Ahn of the Division of Cardiology.
Hosted by the CardioVascular Research Foundation (CVRF) and sponsored by the Heart Institute of Asan Medical Center (AMC), the 28th Cardiovascular Summit TCTAP 2023 was held from May 6 to 9. TCTAP is a renowned international academic symposium in the Asia Pacific region that has been attended by cardiology experts worldwide every year since its inception by the Division of Cardiology at AMC in 1995.
This year, TCTAP returned to an in-person format after a hiatus of four years due to the COVID-19 pandemic, and it successfully attracted more than 3,300 cardiologists from 81 countries. To ensure accessibility for young medical scientists, medical teams in developing countries, and medical students who faced challenges attending the symposium in person, selected sessions were also made available online.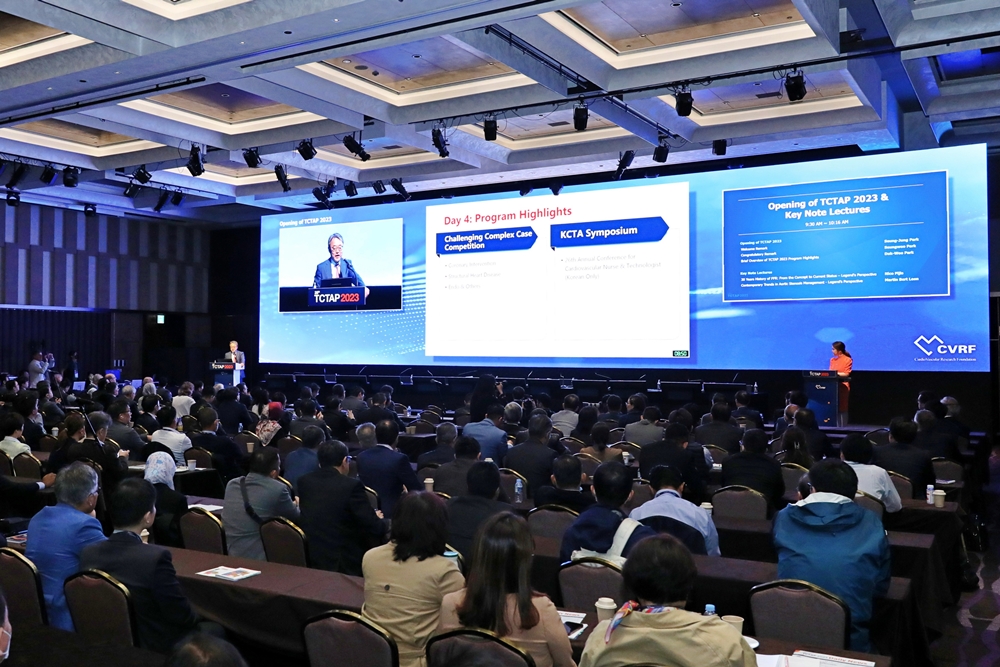 ▲ The 28th TCTAP returned to an in-person format after four years. On May 7, the second day of the symposium, Professor Duk-Woo Park delivered a presentation during the opening session.
The key sessions of TCTAP included the TCTAP Workshops, where experts in interventional cardiology delivered comprehensive lectures on major issues; Live Case, which offered real-time streaming of procedures performed at prestigious hospitals in South Korea and abroad; and the Training Center, featuring hands-on lectures on advanced techniques. The Live Case session, in particular, showcased the latest techniques applicable in clinical practice and received tremendous response from attendees, with participation from nine centers, including the Minneapolis Heart Institute Foundation in the United States, St. Paul's Hospital in Canada, and the Second Affiliated Hospital of Zhejiang University in China.
Professor Seung-Jung Park of the Division of Cardiology (Co-Course Director) stated, "Thanks to the efforts to efficiently share the latest knowledge in cardiology, TCTAP has establish itself as a leading academic conference in the Asia-Pacific region. We will continue to strive for the passion and academic advancement for heart research."
Professor Duk-Woo Park of the Division of Cardiology (Co-Course Director) expressed, "With TCTAP returning to an in-person format after four years, we anticipate more active academic exchanges and the opportunity to foster friendship. Through discussions on various fields of heart disease, we aim to enhance patient safety and the quality of care."